Break Open The Sky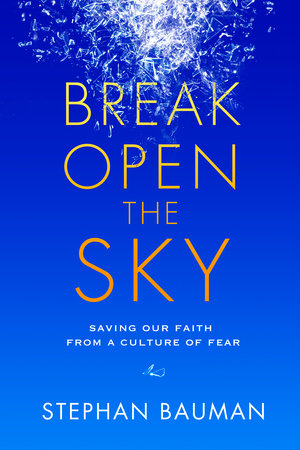 I was really excited to read Stephan Bauman's new book, Break Open The Sky: Saving Our Faith From A Culture Of Fear. Not only does it have a great title, the cover is so bold and gorgeous. Not only that, I've observed how our culture has become seemingly more and more fear-driven post-9/11. Threats appear to be all around us, and the 24/7 news cycle just pumps out more and more things to be terrified about. The back cover says:
"In a World that Thrives on Fear, Have Faith
Terrorism. Racism. Refugees. Political vitriol. Our culture is driven by fear. Compared to all previous generations, we are more safe, live longer, hurt less, and earn more. Yet, we are more afraid than ever.
Our faith has fallen prey to this culture of fear. Fear slips into our souls, leaving us not only afraid, but on edge and constantly anxious. No longer a safe harbor, a source of strength, and a bastion for love, faith has become a caricature of the real thing. We are left wondering, questioning, even disillusioned.
We face a defining moment. Will we cave in to fear or rise in faith? Stephan Bauman, the former president of World Relief, has seen firsthand in some of the most difficult places in the world how it is possible to embrace love in the face of fear. Break Open the Sky is an invitation into living out what matters most. We can become, once again, a community of hope."
First off, I did love this book. However, I'm giving it 4 stars instead of 5 because while it was a great book, it didn't quite live up to my expectations based on the title and description. I was expecting this to be a book focused on what the description and title imply: the culture of fear in America, the actual reality of the state of the world, and how to fight this pervasive fear with our faith in Christ. However, this isn't really what this book is about at all. The Introduction and first chapter touch on this subject, but then the book takes a hard left and veers off into a sometimes rambling (but interesting and good) discourse about the Beatitudes, refugees, sex slavery, and stepping out to do bold missional works for God (and changing your corner of the world as much as you can). While I thoroughly enjoyed learning about these topics and receiving a nudge to do what I can to help in my corner of the world, I closed the book feeling confused about what it actually was about. I think the publisher erred when writing the description - it's not a very realistic description of the actual book. However, I highly recommend it to Christians wanting to step out in bold faith and change the world around them.
I received a copy of this book from Blogging For Books in order to provide an honest review. All opinions are my own.