His Guilt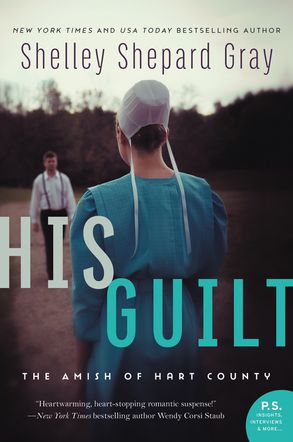 His Guilt is the second book in Shelley Shepard Gray's Amish of Hart County series, the first being Her Secret (which is also read and reviewed - loved it!). I was so excited to read the next book because I loved the first one so much (it looks like there will be at least two more in this series, can't wait!). This book shifts focus to Mark Fisher and Waneta Cain. The back cover says:
"New York Times and USA Today bestselling author Shelley Shepard Gray delivers the next novel in her Amish of Hart County series—a suspenseful tale of an Amish man who will risk all to protect the woman he loves.
Mark Fisher has returned home to Hart County, determined to put the past behind him. Two years ago, after being wrongly accused of assault, he left the Amish community, though never forgot his home. When the one person who had helped him through his rough times asks for help, Mark returns. But it is pretty Waneta Cain who makes him want to stay...
Neeta is one of the few people in Hart County who doesn't believe Mark is guilty of hurting anyone. However, his worldliness and tough exterior do make her uneasy. As she begins to see the real man behind all the gossip and prejudice, she wonders if he is the man for her.
Just when Mark starts to believe a new life is possible, a close friend of Neeta's is attacked. Once again, everyone in the community seems to believe he is guilty. But what hurts most is Neeta's sudden wariness around him. When another woman is hurt, a woman who is close to both Neeta and himself, Mark fears he knows the real culprit. And time is running out. Will Mark be able to find him before Neeta becomes his next victim?"
His Guilt is another page-turning, can't-put-down suspense book. I think Gray's blend of Amish fiction with suspense is absolutely genius. It's something that I feel like no one's quite done before, and it works so well. It brings a clever new twist on the typical Amish romance novel, and makes it that much more interesting. I love Christian suspense, so it's neat to read it blended with Amish fiction. I think it also brings a new and more realistic light on the Amish community. Most Amish novels are over romanticized and overly idealistic, when the Amish deal with crime, domestic violence, and other crimes just like the English do (albeit, I'm sure, on a much smaller scale). I enjoyed the story of Mark and Waneta, but I didn't love it *quite* as much as the first book. However, it's a great continuation of the series and still a 5 star review from me. I'm looking forward to the third book in this series and can't wait to read it. My only complaint is that I wish we'd gotten a bit more of a glimpse at Isaac Troyer and Hannah Hilty. However, I highly recommend it and the series as a whole.
I received a copy of this book from Litfuse in order to provide an honest and unbiased review.