Get Out Of That Pit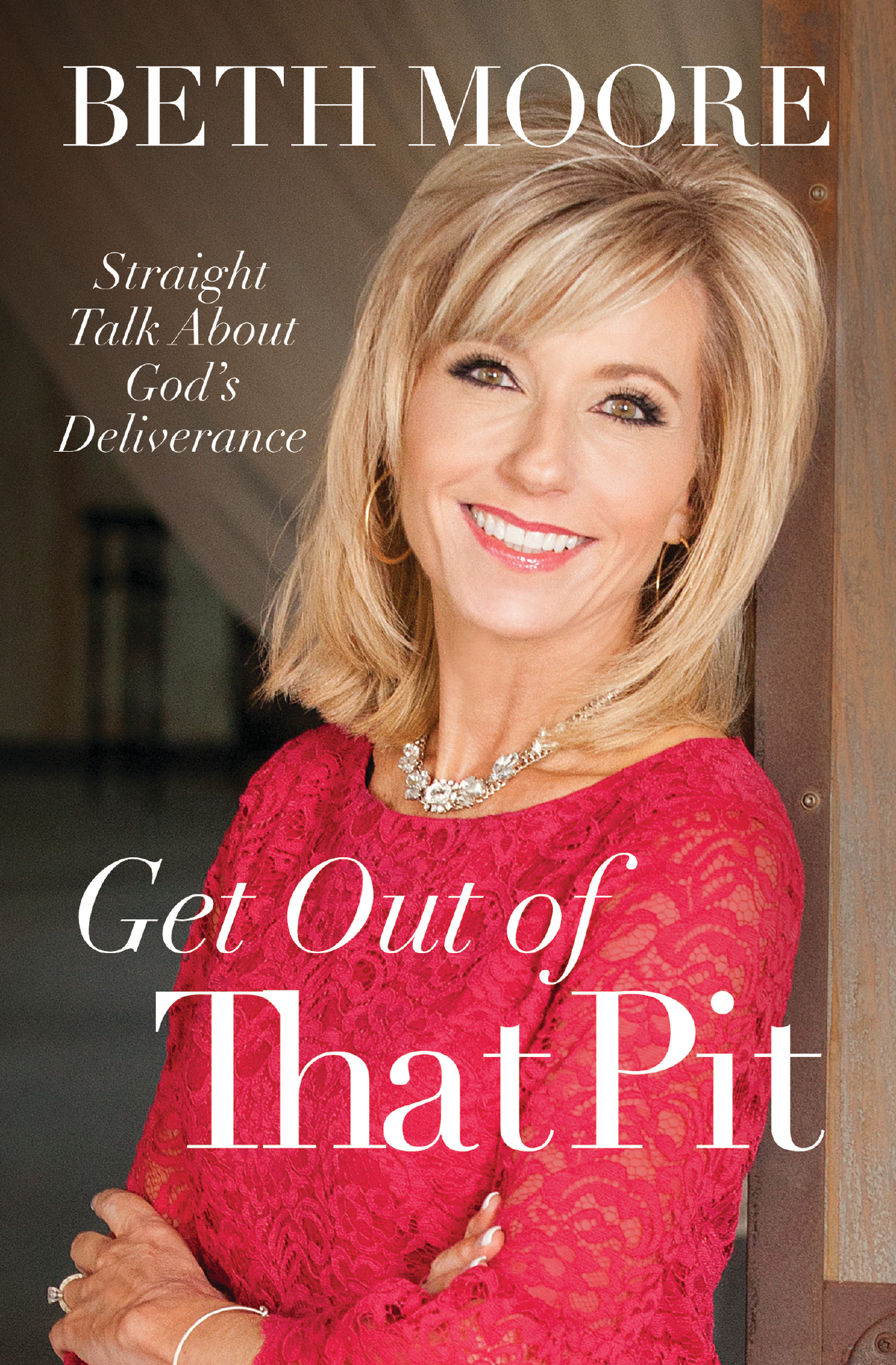 I was super excited to get the chance to read and review the 10th anniversary reprint edition of Beth Moore's Get of That Pit: Straight Talk About God's Deliverance. I hope you're sitting down, because what I'm about to say might shock you: I've never read a Beth Moore book before. I know, crazy, right? I've read about a million books, but I've never picked up one of hers before, although I've certainly heard of her and know that she has a large Bible study ministry and following. Get Out of That Pit seemed like a good place to start, since it's one of her most popular books, having sold 750,000 copies. The back cover says:
"From her first breath of fresh air beyond the pit, it has never been enough for Beth Moore to be free.
This best-selling author and Bible teacher who has opened the riches of Scripture to millions longs for you to be free as well—to know the Love and Presence that are better than life and the power of God's Word that defies all darkness.
Beth's journey out of the pit has been heart-rending. But from this and the poetic expressions of Psalm 40 has come the reward: a new song for her soul, given by her Saviour and offered to you in Get Out of That Pit—friend to friend. This is Beth's most stirring message yet of the sheer hope, utter deliverance, and complete and glorious freedom of God:
I waited patiently for the Lord
He turned to me and heard my cry
He lifted me out of the slimy pit
He set my feet on a rock
He put a new song in my mouth
It is a story, a song—a salvation—that you can know too.
[New Cover for 10th Anniversary]"
Now, I've heard some bad things about Beth Moore's teachings being unbiblical, her ministry being unbiblical (apparently she teaches/preaches to men). However, all I have to go on is this particular book, and this book is sound and good. I don't know if I'd recommend her other books, studies, sermons, etc, but I feel comfortable recommending Get Out of That Pit. I meant to go through this book slowly and do the provided Bible study along with it, but after I picked it up, I couldn't stop myself from reading the next chapter, and then the next. Beth has a hilarious writing style and the ability to sound so down-to-earth and friendly while at the same time giving you a wallop over the head with the Scriptures and helping you see your need for God and your need for deliverance. She tells her own stories and cuts through all your excuses for being, staying, or getting in a pit. Now that I've flown through the book, I am going to go back through it slowly and do the Bible study that's included in the back so I can glean as much as possible from this book. The book is based on Psalm 40:1-3 and topics covered include Life in the Pit, When You're Thrown Into a Pit, When You Slip Into a Pit, When You Jump Into a Pit, Getting Out of Your Pit, The Three Steps Out of Your Pit, Waiting on God for Deliverance, Make Up Your Mind, Singing a New Song, and Our Pit-Less Future. There are also Scripture prayers included for every day of the week. I highly, highly recommend this book to any Christian who has ever gone through troubles or are currently going through troubles. God can and will give you deliverance, but you have to be willing to fight for it.
I received a copy of this book from the publisher in order to provide an honest and unbiased review. All opinions are my own.