ScriptureDoodle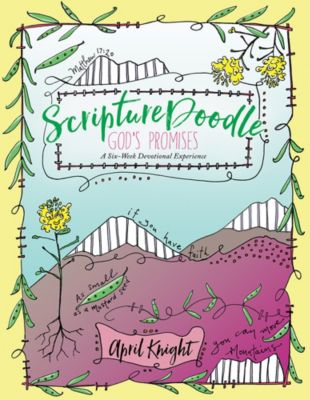 Anyone who knows me knows how obsessed I am with coloring! Long before "adult coloring books" were a hot trend, I would still color my kids' coloring books alongside them. Coloring is fun, relaxing, and relieves stress, at least for me. I get a lot of enjoyment out of being able to color a beautiful picture without the stress of trying to draw something by hand (because, let's face it, I have absolutely no skills in that area!). ScriptureDoodle: God's Promises - A Six-Week Devotional Experience by April Knight combines my love of coloring with my love of Bible study. The book description says:
"ScriptureDoodle God's Promises refreshes believers who are feeling burned out or stuck in a rut in their relationship with God. Each of the creative worship prompts in this interactive guide includes biblical encouragement and ideas for worship through art. Artist April Knight includes creative lettering tips, color ideas, and completed examples to inspire readers to respond to promises in Scripture related to trust, faith, and the power of God's Word in all circumstances."
I have several Scripture-themed adult coloring books that I enjoy using, but they are just coloring pictures with Scripture verses or themes, not an actual Bible study (not that there is anything wrong with that! I enjoy them greatly.). However, in ScriptureDoodle: God's Promises, April Knight manages to combine coloring and fun with a rich Bible study. There are coloring exercises for each day for a full six weeks, plus a few bonuses. April includes an introduction as well as some great coloring tips for newbies. Each exercise gives you Scriptures, thoughts, applications, and a picture to color. This book is just so much fun. Topics covered include A Faithful Promise, Faithful In Our Weakness, Abide, Abundant Life, and many more. I highly recommend this book to anyone looking to spice up their devotional life a little and unleash their creativity in an easy and stress-free way.
I received a copy of these books from Litfuse in order to provide an honest and unbiased review. All opinions are my own.