With My Eyes Wide Open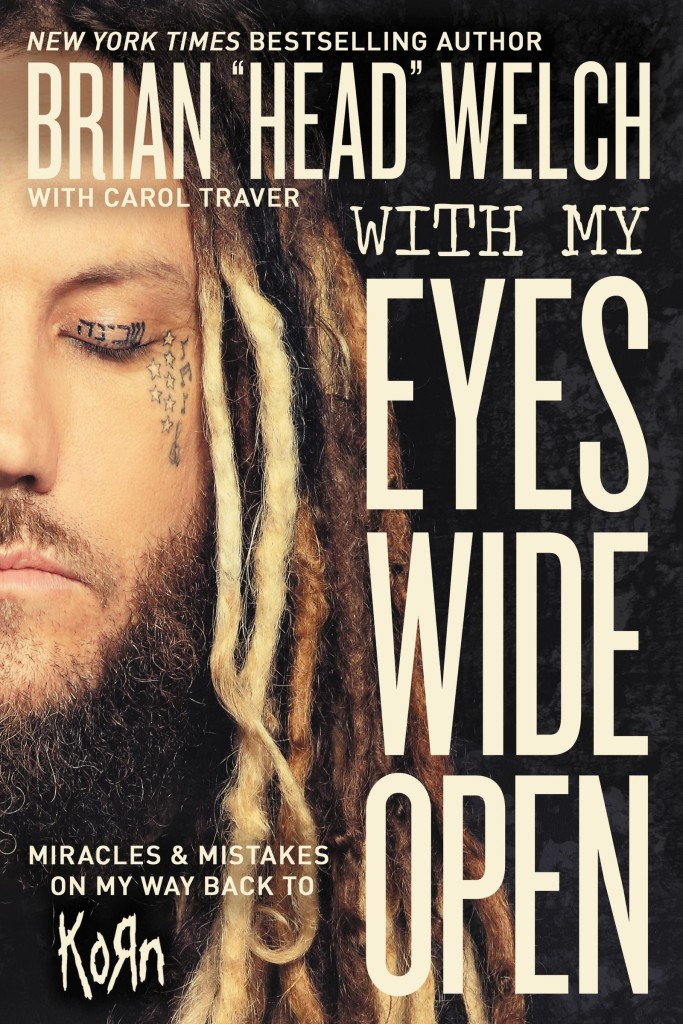 I was super excited to read Brian "Head" Welch's new book, With My Eyes Wide Open:Miracles & Mistakes On My Way Back To KoRn. I haven't read his first book, Save Me From Myself, yet, even though it's been on my "TBR" list since it first came out. I'll definitely be buying it and reading it ASAP now after reading With My Eyes Wide Open. This book picks up where his first memoir left off, and details how and why he came back to KoRn and what he's been doing since he left. The book description reads:
"He left KoRn to help himself. He went back to help others. And along the way, he nearly lost everything.
A life-changing spiritual awakening freed Brian "Head" Welch from a stranglehold of drugs and alcohol and prompted him to leave the highly successful nu-metal band KoRn in 2005. What followed was a decade-long trial by fire, from the perils of fathering a teen lost in depression and self-mutilation to the harsh realities of playing solo and surviving the shattering betrayal of a trusted friend. In this intensely inspiring redemption saga, perhaps most inspiring is Brian's radical decision to rejoin KoRn and reconcile with the tribe of people he once considered family in the metal music scene.
Brian returned to his musical roots with a clear head and a devoted heart. Though his story is wild, hilarious, and deeply poignant, the message is simple: God will love you into the freedom of being yourself, as long as you keep the relationship going and never, ever quit."
I was never a HUGE fan of KoRn, but I did listen to them quite a bit back in the day. Being a teenager in the late 90s, I love 90s music, and KoRn is a huge part of the 90s music scene. Plus, we were born in the same city (Torrance), so that's pretty cool. My husband has always been a huge KoRn fan, though, so I was especially interested to read this book. My husband and I became Christians in our early 20s after living a pretty rough lifestyle in our teens, so I could really relate to the struggles Head's gone through and come out of. I absolutely love the obvious Hand of God's divine grace and mercy on his life. And as a now-32-year-old struggling to deal with a 13 year old son, his transparency and honesty about the struggles he's gone through with his teenage daughter were so helpful for me to read. I got so much from this book and I'm so glad I read it. Head is in a unique position to reach the now-adults who grew up in the 90s listening to his music as well as the young fans he still has today. I appreciate so much that he is reaching out to this audience instead of just turning his back on it all. I highly, highly recommend this book to any Christian - fan of KoRn or not. This book would be especially helpful to those struggling with addictions or who had lived a rough lifestyle before coming to know Christ. This is also a great book to gift to anyone you know who is struggling and doesn't know Christ yet - this book is a wonderful outreach tool as well. Get this book and read it!
I received a copy of this book from BookLook Bloggers in exchange for an honest review. All opinions are my own.