Taste And See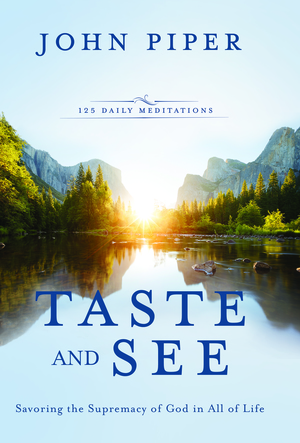 John Piper's Taste And See is a followup book to his A Godward Life devotional, which I've read and enjoyed. Taste And See contains 150 in-depth but brief devotions. They cover a myriad of subjects, including current controversial topics. The book description says:
"A Devotional Powerhouse!
This revision of the follow-up to the popular A Godward Life adds twenty fresh entries to the original 120 daily meditations that are solid meat and sweet milk from God's Word. The new entries broach current and controversial subject matter, such as partial-birth abortion and gay marriage. Piper asks the hardest questions and finds wonderfully poignant but practical and applicable truths from the Bible. These 350 pages of substantive spiritual nourishment will brace readers' minds with truth and nourish their hearts with God's sovereign grace. Pastors and lay leaders particularly will appreciate the three indexes included. They don't need to look any further to find a pertinent illustration or tidbit of inspiration!
Expanded Edition of the Popular Godward Life II Devotional
Taste and see…The Lord is good.
Psalm 34:8
The soul tastes truth like the lips taste food. Spiritual hunger cries out for rich, substantial nourishment. It is remarkable how much meat these daily portions contain.
Skillfully presented by pastor John Piper, this devotional of contemporary meditations on biblical reality will whet your appetite for more of God Himself and refresh you in your daily communion with Christ."
I own a lot of devotional books, but sometimes they can just be a little too light and fluffy for me. One verse, an illustration, and a quick little lesson or application. However, I don't think anyone could ever accuse John Piper of writing a light and fluffy devotional. His writing style is direct and to the point, and his insights are always deep. Each of these 150 devotions are 1-3 pages apiece, so not very long and easily digestible, but they are completely steeped in and drawn from God's Word. Piper shares stories from his own life and stories from Christians of the past, as well as relevant illustrations and stories. Each brief devotion truly feels like it hits home a great point and leaves me with something to think about and chew on throughout the day (no pun intended). I'm not a Calvinist, so I don't agree with every word he says, but there is still a lot to glean from this book for any Christian. I highly recommend this book.
I received a copy of this book from Blogging For Books in exchange for an honest review. All opinions are my own.